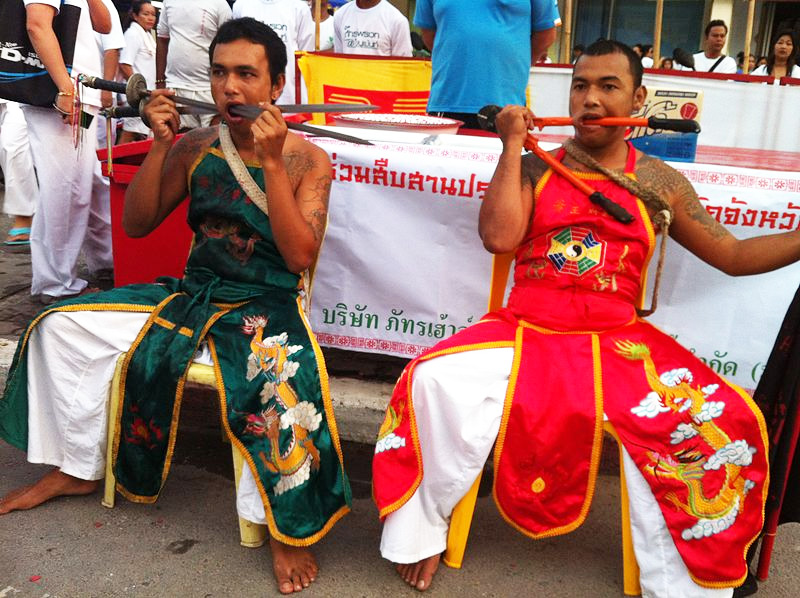 October is the time in Phuket when the monsoon gradually subsides, and frequent sunny days return to the island. The vendors who packed away their goods for low season, slowly emerge and start to prepare for tourist season. Yet, it is a great time to be in Phuket and here is why:
First up is the Oktoberfest that runs from late September to the 7th of October. Beer of all sorts and flavours can be enjoyed at establishments like Naughty Nuri's in Patong, or join the fun, food, music and beer at the German Festival at Boat Lagoon in Thalang on Saturday the 6th. Here is the link: https://www.facebook.com/events/1903232019740889/
After all that beer and indulgence, it's time to sober up and dig into your salad! The island hosts the annual Vegetarian Festival from 8 – 17 October, which boils down to 10 days of #Meat-free-Mondays in a row. In the past, the festival, which cultivate a healthy body mind and spirit through abstinence from meat, was mostly celebrated by the Chinese community, but the tradition has been adopted by many a Phuketian, as well as visitors from all over South-East Asia who flock to the event.
You can also witness incredible ceremonies like fire-walking, body-piercing and other forms of body mutilation, which is all part of the tradition to appease the Nine Emperor Gods. Street processions and parades are also part of the festival, which will take place at 6 Chinese temples around Phuket. For a full schedule with locations, events and photos, visit http://www.jamiesphuketblog.com/2016/04/phuket-vegetarian-festival-schedule.html or http://www.phuket.com/festival/vegetarian.htm
If German or Vegetarian food does not whet your appetite, why not visit the New Zealand Wine ad Food showcase on the 5th of October at Firefly in Cherngtalay. It celebrates the arrival of new vintage wines from New Zealand and chef Rey Ardonia's accompanying cuisine will tantalize those taste buds.
If you still fancy some good Thai food after all this, you can join MasterChef UK finalist Nawamin Pinpathomrat at Anantara Mai Khao Phuket Villas for private dining and a cooking class on the 19th of October.  For more on this upmarket event, click here: https://www.anantara.com/en/mai-khao-phuket/offers/thai-masterchef-experience
And what better way to end a month of gastronomic delights than sitting on the beach and watching surfers ride the waves. The Khao Lak surf contest and festival will run from the 26th – 28th of October and will conclude with a Sunset Surfer Party not to be missed.
For these and other events, please visit www.phuket.net and www.phuket.com