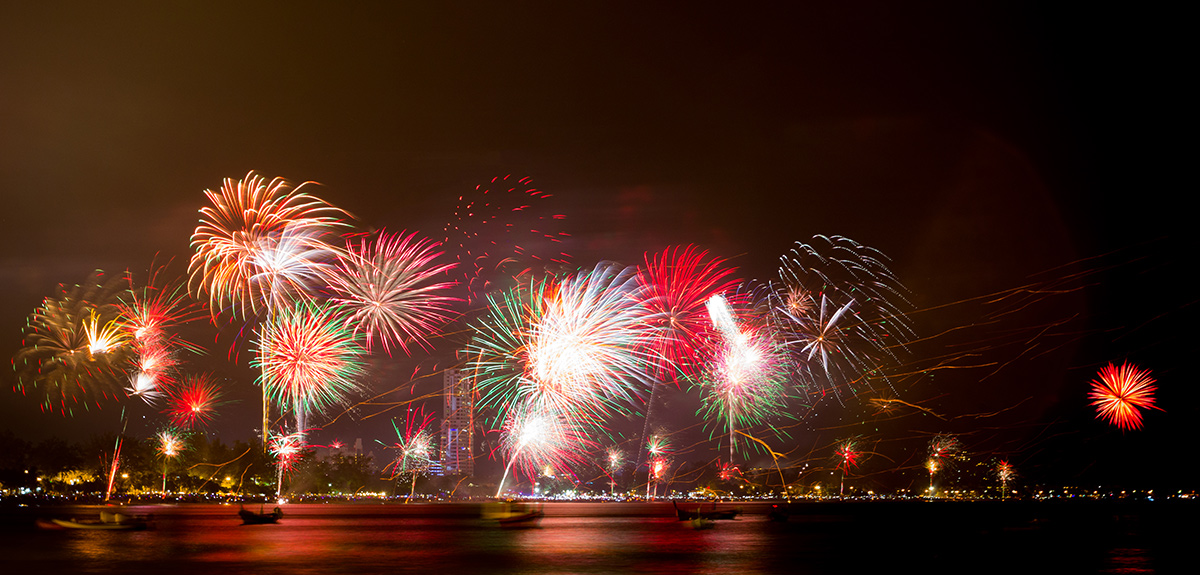 Fireworks on Patong Beach Thailand – Wyoosumran
So it is that time of the year again when the question on everyone's lips is: "Where to go for the best parties?" Luckily, there is no shortage of good New Year's parties in Phuket. In fact, the problem is there are so many, you may end up having a hard time to choose!
In Patong, you can expect the most activities such as beach parties and organised music events. This popular destination is guaranteed to have something for every party reveller and it is just a short walk away from our school. Roads will be blocked off and there will be a live music festival with a floating stage starting the day before.
If you are planning to have dinner at well-known restaurants or clubs, like Café Del Mar or Paradise Beach Club it is highly recommended that you make a reservation in advance, to avoid standing in long queues. Roads will be blocked off and there will be a music festival starting the day before. Another popular beach club venue is Xana in Laguna. For more details about their New Year's event, click here https://web.facebook.com/events/824765957855551/
Further north, Layan beach offers a more relaxed atmosphere where you can bring your own picnic baskets and watch the fireworks and floating lanterns. Although there will be no organised music events, the atmosphere is still very festive.
For an authentic Thai experience, the Royal Phuket Marina will have a New Year's night market from the 29th onwards. There are also plenty on offer in Phuket Town, where you can party with the locals in true Thai fashion. You can find details here https://web.facebook.com/events/585648885217234/
What better way to enjoy the amazing fireworks that the island has to offer than from a rooftop venue. Vanilla Sky @ Cape Sienna, Heaven near Kata, or 360 at Phuket are just a few of the possible bars. But do make a reservation to avoid disappointment. Another spectacular way to have a birds-eye view of the fireworks is from the Big Buddha in Chalong. However, please remember to dress appropriately in should you wish to visit this famous Phuket landmark.
If you prefer to boogie the night away, you are in luck because Phuket has a lot hot clubs to visit. Illuzion and The White Room, both located in Patong, are two of the most popular clubs in town. Let the world-class DJ's lead the countdown into the new year. For further information please visit http://newyearseveinphuket.blogspot.com/2018/03/new-years-eve-phuket-2019.html and https://www.phuket101.net/new-years-eve-phuket/
With so many options, you are guaranteed to have a memorable New Year's Eve in Phuket. Please remember to drink responsibly, drive carefully and to keep the island clean.
If you need to extend your visa in Patong, its possible to convert a tourist visa to an ed visa as part of a language course. Our school re-opens on the 2nd Jan, but feel free to contact us for information.